Two on display, and a few other bits and bobs
As an accompaniment to my Aviation enthusiast's guide to Tasmania, I have decided to compile a guide to the preserved aircraft of Tasmania, however, there aren't many, so this is going to be a pretty short post.
Launceston Airport
Desoutter Mk. II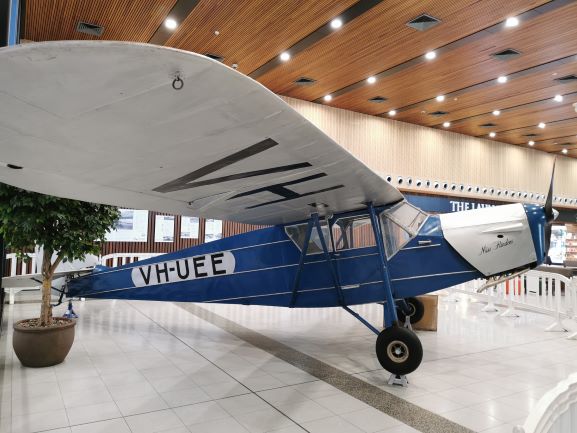 Launceston Airport is the new home of VH-UEE 'Miss Flinders', formerly housed at QVMAG in Launceston. 'Miss Flinders' is a 1930 built Desoutter Mk. II that has spent much of its life in Australia, you can read more about it here.
Scottsdale RSL Military Museum
Bell UH-1 Iroquois
Scottsdale, in North-East Tasmania, is the unlikely home of a complete Bell UH-1 Iroquois 'Huey' helicopter from the Vietnam War. It is housed in the Military Museum adjacent to Scottsdale RSL, alongside a variety of other military bits and bobs.
Queen Victoria Museum Launceston
De Havilland DH.114 Heron
Though currently in storage at Inveresk, the Queen Victoria Museum and Art Gallery are in possession of two former Airlines of Tasmania De Havilland Herons, one complete, but disassembled one, VH-CLV, and the forward fuselage of VH-CLZ.
Private property Woodbury
De Havilland DH.114 Heron
The final substantial aircraft part that I am aware of in Tasmania, is the fuselage of Airlines of Tasmania De Havilland Heron, VH-CLT, used as a storage shed on a hunting property west of Woodbury, in the Southern Midlands. Photos show the aircraft is in a very poor state, and it seems unlikely to be restored.
Beyond the above aircraft, there are a number of tails, propellers, and other miscellany dotted around the state at war memorials and RSLs, so it's always worth keeping a look out when travelling. I hope this rather short post has been a good read, and don't forget to check out my Aviation Enthusiast's Guide to Tasmania.